The Genius of Sequoyah
By Jim Parins
Sequoyah, the much-honored creator of the Cherokee syllabary, the means by which anyone speaking the Cherokee language could become literate, was an unlettered man himself until he finished his system. Nonetheless, the Cherokee historian Dr. Emmett Starr reported, written language held a particular fascination for him. Seeing the written page used by white people, Sequoyah at first thought that each letter stood for a word. Upon closer examination, however, he concluded that this could not be true, and that a better explanation was that each letter represented a sound. This idea, which came to him around 1809, was the seed from which the Cherokee syllabary grew.
Sequoyah, Starr reported in his 1905 biographical article published in the Cherokee Advocate, was born about 1760. The historian describes him as a man who was below medium height and slightly lame from a childhood affliction. Sequoyah adhered to the ancient beliefs of the Cherokees and wore the traditional shirt, leggings, moccasins, and turban. According to Starr, he never acquired any knowledge of the English language.
Earlier employed as both a blacksmith and silversmith, Sequoyah turned his full attention to developing his syllabary around 1809, much to the chagrin of his wife, who considered his work a useless effort. Sequoyah started with the idea that letters stood for sounds, then tested it. With his knife, he scratched a character resembling the Roman letter G and called it "wa," a syllable in the Cherokee language, then scratching next to it the letter E, which he called "ku." The letters represented, then, "wa-ku," the Cherokee word for cow, thus affirming that he was on the right track. His task, then, was to represent all the syllables used in the Cherokee language with a symbol. In 1821,when he finished, he had created eighty-five characters.
Sequoyah's system was not automatically embraced once he revealed it. At one point, Starr reports, his wife gathered up all the pieces of bark upon which he had penned a character, a couple of armfuls, and threw them into the fire. Luckily, Sequoyah by this time had consigned the syllabary to memory, so he could reproduce it without much difficulty. Others thought he was wasting his time, too, some even saying that he had come under the spell of witchcraft or was insane. In spite of this criticism, he pressed on knowing full well that he would make a fool of himself if he failed.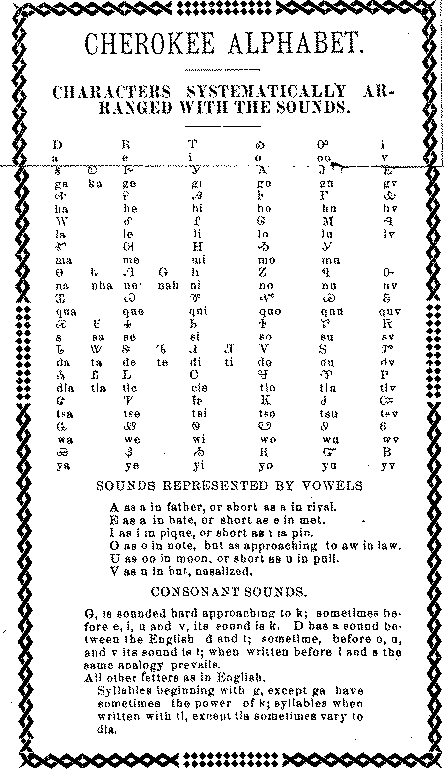 But of course he did not fail, completing this important linguistic work while living in a remote cabin in Arkansas Territory in the early 1820s. Once he had shown the Cherokees living there what he had done, he traveled back to the Cherokee Nation in present-day Georgia to share his work with the main body of the tribe. Here he was met with skepticism at first, but once he had taught the system to some Cherokee youths, who were able to learn it quickly and easily, tribal leaders became enthusiastic. Sequoyah was hired as a teacher to help spread the syllabary's use, and in a short time, any Cherokee speaker who desired could read the language. Missionaries were enthusiastic, seeing a new way to help spread their message. With their help, the Cherokees were able to procure a set of type and set up their own printing operation. This led to the establishment of the Cherokee Phoenix, the first newspaper published by American Indians, which greeted its first readers in both Cherokee and English in 1828. The Cherokee press also published Biblical passages, hymnals, and other tracts.
Sequoyah moved back west, settling in eastern Indian Territory where the so-called "Old Settler" Cherokees had taken land after leaving Arkansas. After the Trail of Tears, the tribe's main body removed to the area as well. Sequoyah was active among his people, taking part in deliberations concerning several treaties and in the formulation of the Cherokee Constitution of 1839. In 1842, he accompanied his son Teesce to Texas, at the time an independent republic. Starr reports that he died there in August of 1843, but his burial site is unknown.
The creation of the syllabary has been universally hailed as a monumental work. It is noteworthy, as Starr points out, in that it is the only alphabet created by one man. It is remarkable in its completeness, too, since everyone who understands Cherokee, once learning which syllables the eighty-five characters represent, can read and write the language. No additions to or deletions from the original syllabary have ever been found to be necessary.
Once his people learned the syllabary, Sequoyah was hailed as a genius. The Cherokee Nation presented him with a medal for his achievement, but the accolades did not stop there. His people named one of the political districts in the Cherokee Nation west of the Mississippi after him, which designation survives as Sequoyah County in present-day Oklahoma. The soaring Sequoia redwood trees in California were named for him, and his statue sits in the National Capitol. In 1805, representatives of the Five Civilized Tribes met in Muskogee to write a constitution and propose statehood for their region. The Indians' choice for a name for their new state was Sequoyah. Through the years, several Native American writers and orators have saluted him in their works. We have included some of these tributes below.